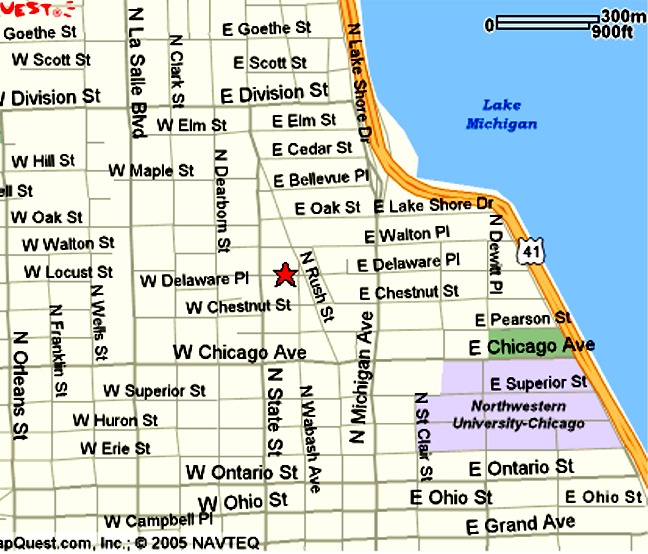 DIRECTIONS
25 East Delaware Place, Suite 1706.
At the security intercom at the front door to the building press/buzz POUND (#) 150 (Or you can look up "Power Hypnosis" in the directory).
BY APPOINTMENT ONLY.
Conveniently located Downtown Chicago in the Gold Coast area one block West of the John Hancock building and across the street from the Talbott Hotel.
25 E. Delaware is located between State & Rush and Chestnut & Walton. Delaware goes East; Rush goes North; State goes North & South; Chestnut & Walton go West.
FOR CTA SYSTEM MAP CLICK HERE
VIA "L" TRAIN: Red Line stops at Chicago (at State). Purple & Brown Lines stop at Chicago (at Franklin). Or take Purple or Brown line to State & Lake and transfer to Red Line and then get off at Chicago (at State). Blue line connects to Red Line at Clark & Lake.
VIA BUS: Lines 143,144,145,146,147,151 stop at Delaware & Michigan. 36 stops at State & Delaware. 22 stops at Dearborn & Delaware. 156 stops at LaSalle @ Delaware.
TO PLAN YOUR TRIP WITH MASS TRANSIT CLICK HERE
USING CTA, RTA, METRA or PACE:
(Type in 25 E Delaware Place in the address field).
FOR DRIVING DIRECTIONS WITH MAPQUEST CLICK HERE
PARKING:
STREET METER BOX PARKING.
PLENTY is available in the surrounding area. $3.00 per hour up to 2 hours. You can pay with credit cards or quarters. PLEASE NOTE: Street parking requires payment until 12 midnight seven days a week. There is an app for your smart phone that lets you pay from your phone at www.parkchicago.com
VALET PARKING next to my office and across the street from my office.
A. When your turn onto Delaware the 1st first building immediately on your right – right after Starbucks – is Buzz Hair Salon which will valet for $12. (3 hour max at this rate).
B. When you turn onto Delaware the 2nd building on your left is the Talbot hotel which will usually valet your car for $12 – $20. (90 minutes max at this rate).
(Please tell valet guys at Talbot you're visiting Power Hypnosis as this is a negotiated price).
$8 Garage Self-Park around the block on Chestnut between Wabash and State. Chestnut is 1 block South of Delaware.
4 hours max at this discounted $8 rate. You park the car yourself. Car entrance is on the right between the Sofitel Hotel and Tempo Diner. There is a 6 foot height max clearance. On foot you will exit garage elevator on State Street and make a right onto State and walk to Delaware and make a right.
$10 GARAGE/VALET PARKING 1/2 block EAST of my office on Delaware – on LEFT side of street just past Rush Street at Ernst Court (an alley).
Between Rush & Michigan.
On Delaware just past Rush street on your left – you turn LEFT into the alley named Ernst Court on your left. 3 hours max at this discounted $10 rate.
You'll see a BLUE square sign with WHITE lettering that says PUBLIC PARKING SalStar Management. (It's customary to tip the parking attendant a couple dollars & they charge extra for oversized trucks).
$24 GARAGE PARKING ($24 for 2 hours).
At garage located on Rush Street between Delaware and Walton. (North East Corner of Delaware and Rush).
The sign says "Self Park for 900 N. Michigan."
And on the street level of the garage there is a Penguin, Ugg, Adidas and Diesel store.
Any of the stores attached to the garage and inside the 900 N. Michigan/Bloomingdale's mall offer $6 validations with a purchase.
And there are a few blocks with free parking spots 3-4 blocks West.
TAXI SERVICE:
There are four taxi stands within one block.